Leicester Cathedral Gardens project: Five skeletons reinterred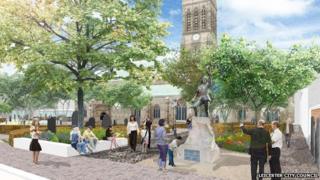 Five skeletons uncovered during renovation work at Leicester Cathedral have been reburied.
The bodies were uncovered during a £2.5m project to transform the city's Cathedral Quarter.
Canon Peter Hobson held a reinterment ceremony for the remains on consecrated ground close to where they were found.
A statue of Richard III, whose remains were uncovered in the city in 2012, will be moved to sit outside a new visitor centre opposite the cathedral.
The bodies were found in land which once formed a graveyard attached to the cathedral.
Canon Hobson said he wanted to keep the burials, beneath earth which will be covered over with grass once the project is complete, "low key" out of respect for the dead.
Consecrated ground
"We found a reasonable amount of what archaeologists call disarticulated remains - bits and pieces of bones," he said.
"And we came across complete tombs. Most of those we have been able to cover over and stabilise but we have needed to remove five complete skeletons.
"All of those have been reinterred back into the same consecrated ground out of which they came."
The newly-developed area, combined with neighbouring sites, will create an outdoor event space with seating for up to 800 people.
The work, funded by the city and county councils, Diocese of Leicester and an award from the European Regional Development Fund is expected to be complete in May.