Sri Satguru Uday Singh Ji attack case jury retires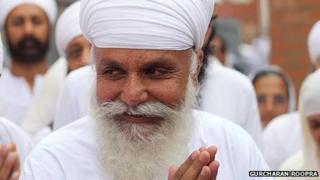 The jury in the trial of a man who attacked a Sikh religious leader has retired to consider its verdict.
Harjit Singh Toor, 27, admitted wounding, but denied the attempted murder of Sri Satguru Uday Singh Ji at a Leicester Gurdwara.
He told Birmingham Crown Court the attack was revenge for sexual abuse as a child, but the prosecution said it was fuelled by religious hatred.
The jury was sent home on Thursday and will return on Friday morning.
The judge said the key question to consider was whether Mr Toor intended to kill the guru.
His victim was described by police as the worldwide head of Sikhism's Namdhari community while Mr Toor, from Oadby, Leicestershire, is an orthodox Sikh, the prosecution said.