Unitary authority 'could save Leicestershire millions'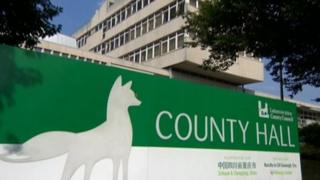 The abolition of district councils in Leicestershire could result in savings of £31m a year, a report has claimed.
The independent report, prepared for Leicestershire County Council, studied the effect of replacing seven district councils with one unitary council.
County council leader Nick Rushton said he was "not advocating an immediate campaign" to scrap the authorities.
Two local councils said having one body serving the county would take local government away from people.
Mr Rushton called for a full public debate before any decision was made.
Tax break
"People who responded to our budget consultation last summer said they wanted fewer councillors and public service organisations," he said.
"At a time when we must save a third of our budget and frontline services have to be reduced, this report is an important contribution to the public debate."
David Slater, leader of Charnwood Borough Council, responded: "A lot of borough and district councils in Leicestershire have trimmed the fat and are relatively more financially stable than the county council.
"My big concern is that having a unitary authority would take local government further away from local people at a time when we need to work closer with communities.
"If unitary authorities are the answer it should not be assumed that an authority based on county boundaries is the best solution. Charnwood is probably big enough to do it alone if that is in the best interests of our residents."
The report by accountancy firm Ernst and Young said the costs of setting up a new council would be £12m, but they would be repaid in just over a year, mainly from reduced management and support service costs.
The savings from adopting the new system could lead to a council tax reduction of more than £7m annually, the report said.
'Abolish county councils'
Stuart Bray, Hinckley & Bosworth Borough Council leader, said: "The county council is too big and too remote from the people. It is there to serve and, in my view, would lead to people having less of a say on the services they receive.
"District councils are already very efficient and have low levels of council tax and are closer to the people.
"If there is going to be any change then they should look at abolishing county councils."
Both borough councils added that any change would require approval from the government and more work needed to be done on how local government could or should be reorganised.
Alistair Jones, politics lecturer at De Montfort University in Leicester, said: "The arguments are not as clear-cut as you might think... there are other costs that might arise."
He pointed to evidence showing that there was lower voter turnout at elections in larger authorities.
Sir Peter Soulsby, Leicester's elected mayor, said: "Unitary status works well for us, but obviously it's something the county council and the people of Leicestershire need to consider for themselves."
Unitary councils have been introduced in Shropshire and Durham, with savings of £20m and £22m a year respectively, the report said.
The existing district councils are responsible for local taxation and benefits, leisure and housing services, and collecting domestic waste.
The report estimated the number of councillors in Leicestershire would drop from 316 to about 100 in a unitary council.