Leicester council to cut about 130 children centre posts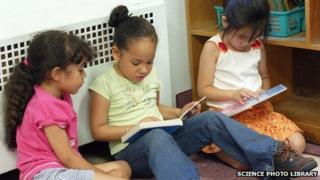 More than 130 jobs are to be cut at children's centres in Leicester in a move to save the city council £3.4m.
The Labour-led authority said it would keep the 23 centres open, but they would share some services.
Staff were told of the decision on Monday and a consultation was started on the future of the 133 posts - 42 of which are currently vacant.
Unions said keeping all the centres open with so few staff to run them was "meaningless".
The city council said it was committed to keeping all the centres open but would merge them into six geographical clusters that would share services.
Every service currently offered - including midwifery, training for parents and carers, family support and play sessions - will run in each of the clusters but not necessarily at each centre.
Councillor Vi Dempster, assistant city mayor, said: "We value our children's centres and want to ensure that we continue to provide excellent services in all areas of the city.
"However, because of massive government cuts in funding, the only way we can achieve this is to change the way we operate them."
Les Price, from the joint unions at Leicester City Council, said the council was engaged in a "masquerade".
"They are going to keep all the children's centres and sites open but they are losing so many staff - our argument is, it's a pretence," he said.
"Staff are the key element in providing services to children and families. You can keep the buildings open but if there's not staff to effectively run them it is meaningless."
A consultation on the future of the 133 posts will run until 28 March.