Sikh leader attack: Sri Satguru Uday Singh Ji attacked 'in revenge'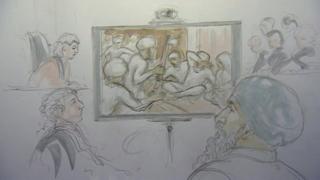 A Sikh religious leader was attacked with an axe at a temple in revenge for alleged sexual abuse, a jury has heard.
Sri Satguru Uday Singh Ji, described by police as the worldwide spiritual head of the Namdhari community, was assaulted at the Gurdwara Namdhari Temple in Leicester.
Harjit Singh Toor, 27, admitted grievous bodily harm with intent but denies attempted murder.
The victim was attacked on 11 August, hours after arriving in the UK.
The prosecution compared his position for Namdharis to that of the Pope for the Roman Catholic faith.
Birmingham Crown Court was shown video footage of the moment he was attacked, suffering a broken arm and facial injuries.
Opening the case, prosecutor Gordon Aspden said Toor, of Woods Close, Oadby, Leicestershire, was motivated by religious hatred for his victim.
The prosecution does not accept Toor's claims that he was sexually abused by him 20 years ago in India.
He said: "Although the defendant is an orthodox Sikh he was dressed like a Namdhari, wearing a white turban.
"That manner of dress meant he was able to walk into the gurdwara without being challenged.
"He walked down the central aisle... and when he reached the platform, the defendant pulled back his shawl and produced an axe that he had concealed underneath it.
"He then attacked the guru with the axe.
"The guru's assistant, with great bravery, moved forward and managed to shield his master."
Shortly after the attack, he was heard to say that "his guru" was the Sikh holy book and he did not believe in a living guru, the court was told.
In his attack, Toor swung the 3ft long axe three times, breaking his victim's arm as he tried to protect himself and slashing his face, jurors were told.
The court saw CCTV footage which showed worshippers wrestling the defendant to the ground and kicking him.
The trial is expected to last a week.