Leicester City Council makes £51m capital budget plans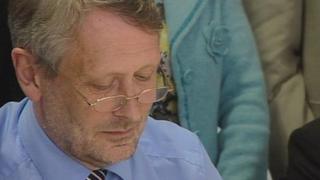 Primary schools and elderly care will be top spending priorities for Leicester City Council's £51m capital budget.
Mayor Sir Peter Soulsby said £16.8m would be spent on primary school places and £8m for elderly care facilities from April if plans are approved.
The Labour-led authority said the money has come from government grants and the sale of Leicester City Council assets.
A Tory councillor said more money was needed to resurface "dangerous" roads.
From a total of £77m, about £26m from council rents would be reinvested back into maintaining council houses - leaving £51m to invest in other long-term projects.
'Strain on resources'
Sir Peter said more than 700 new primary school reception places needed be created over the next two years as the city's population grew.
Head teacher Martin Fitzwilliam, from Christ the King Catholic School, which would receive up to £1m to expand, said: "We have a considerable waiting list for all of our classrooms and we have on average three to four people applying for each place.
"It means that children aren't always guaranteed a place, it also means there's a strain on resources and maintaining standards, which we need to make sure are high each year."
Other areas include £2m for disabled facility grants and another £2m on highways improvements, including filling potholes.
Ross Grant, Conservative councillor at the authority, said he agreed with some "sensible and essential spending" on primary schools, elderly care facilities and highways but has concerns over some of the priorities.
"Less should be spent on redirecting city centre traffic and on small sections of road like Guildhall Lane, which cost £500,000, and more on dangerous surfaces making it saver for all road users," he said.
Sir Peter said £3.2m would also be put towards the "major new investment" in the city centre - redeveloping Haymarket Bus Station, which would cost a total of £13.5m.
"It's dangerous, it's uncomfortable and it's not a pleasant place for passengers and not a good place for buses to operate either, so we are putting aside money for that," he said.
The Leicester mayor added that it was also important to him to spend money to create new play facilities - starting with a new water-play area at Abbey Park - and to improve public toilets, including new toilets at Watermead Park and Evington Park.