Hinckley Concordia Theatre child sex abuse probe: Two men arrested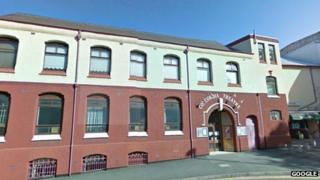 A major child sex abuse investigation focusing on a theatre in Leicestershire is under way after claims children were sexually abused.
Four men have been banned from the Concordia Theatre in Hinckley as part of the inquiry. Two of them have been arrested and bailed.
Children aged up to 16 were allegedly abused off the premises, said police who began their inquiry in October.
Detectives have not revealed how many complainants have come forward.
However, they say they want to speak to anyone who believes they were targeted - no matter their age at the time or how long ago it was.
'Connected to the theatre'
Warrants have been carried out at four addresses in the Hinckley area, including the theatre in Stockwell Head, police said.
The county council said it had stopped issuing licences for children to take part in upcoming productions.
Det Insp Richard Hiom said: "The offences we are investigating were committed away from the theatre.
"However, the people we have arrested are connected to the theatre in a number of ways."
Lesley Hagger, director for children and family services at Leicestershire County Council, said the authority was working closely with police.
A spokesman for the Concordia Theatre said it was "fully co-operating with all of the investigating agencies".