Rushey Mead School to become academy despite opposition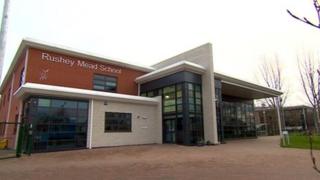 A school in Leicester rated outstanding by Ofsted is to convert to academy status, despite strong opposition from unions and the city council.
Rushey Mead School governors voted to become the first non-faith secondary academy in the city on Tuesday evening.
Head teacher Carolyn Robson said it would make the school more financially sustainable.
The National Union of Teachers said there had been no evidence to show how it would benefit anyone.
Academies are state-funded schools which are not controlled by the local authority, giving them more freedom.
Ms Robson, said: "I don't think there will be any significant changes by becoming an academy but we think it's fundamentally in the best interests of our young people.
"It will enable us to have better financial sustainability and help us to support local schools through sponsorship."
But Ian Leaver, secretary of the City of Leicester NUT, said the move would damage the working relationship between schools in the city, a sentiment echoed by Soar Valley College and Leicester College in their responses to the consultation.
He said: "I find it hard to believe the governors have done that when they still have not come forward with any positive reason to how this will benefit either education for the city, or indeed the children at Rushey Mead itself."
Vi Dempster, assistant city mayor, raised concerns over the school's finances because of the funding the council contributes under a contract established during the old Building Schools for the Future programme.
Currently the council gives about £500,000 a year but Ms Dempster said there was no precedent for the Department for Education (DfE) to make such a commitment.
"I'm very surprised and disappointed by this decision given the financial implications for the school, and can only think that the governors believe that the DfE will underwrite all costs after conversion," she said.