Hinckley's Regent theatre: Investor sought for auditorium plan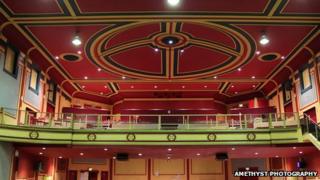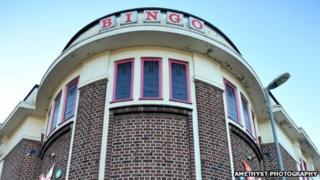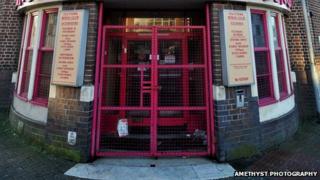 Campaigners are seeking an investor to bring a 1920s Leicestershire theatre back into use.
An application to raze Hinckley's Regent theatre has been replaced with plans to demolish just the rear of the building, leaving its art deco facade.
If they can find an investor, residents say they are "hopeful" the whole site can be saved, including the theatre's 1,200-seat auditorium.
Plans for a supermarket on the site could still go ahead, the council said.
The Save the Regent campaign, which has 2,000 backers on Facebook, is also trying to raise £100,000 to put towards the purchase of the entire site..
'Silver lining'
Chris Keeley, from the campaign group, said the decision by Hinckley and Bosworth Council to approve new plans to demolish all but the facade and neighbouring shops was "a positive step".
"It's a huge silver lining," he said. "The next step for us is to secure the 1,200-seater auditorium.
"That will mean that no part of it will be demolished."
Mr Keeley said the group wants to use the Regent theatre and cinema, which has been empty for six months, as a performance space once again.
"The campaign has grabbed the attention of councillors and, we hope, investors and businesses in the town, so we can secure this building for generations of people in Hinckley," he added.
Bron Witherford, on the council's planning committee, said she backed the residents' campaign, which she called "localism at its best".
"There is a chance it could be saved," she said.
"There was an existing planning application for complete demolition of the site in 2011.
"In putting this planning application forward we have got to a halfway stage where we have been able to secure the wonderful iconic corner and the buildings that are along Rugby Road."
But she said the supermarket plan is "not on hold" as it would not "require complete demolition" of the site.