Leicester's Belgrave flyover demolished over nine weeks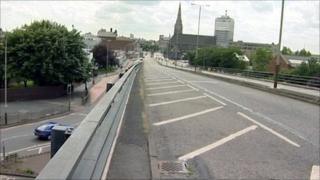 A Leicester flyover will be demolished within nine weeks, says the city council.
The authority announced plans earlier this month to take down the Belgrave Road flyover as part of a regeneration of the city's Golden Mile.
Almost 1,000 residents took part in a vote to choose how they wanted the work to be carried out.
The landmark, which dates back to the 1970s, closes from midnight, with demolition to start on 15 February.
Residents had the option of choosing the work to be completed within nine weeks with a complete closure of roads and work carried out overnight.
The second option was for the work to be done over 14 weeks with single lane closures at off-peak times and full closures in the evenings and weekends.
City mayor Sir Peter Soulsby said 68% of people wanted the work completed "as quickly as possible" and he was "confident" this was the best option to keep disruption to a minimum.
Darmesh Lakhani, from the Belgrave Business Association, said some businesses would have to close for a few days during the work so he hoped they would have their rates refunded for that period.
The second phase of the redevelopment work includes changes to the roundabout and a new car park.