British Pie Awards include category 'fit for hero'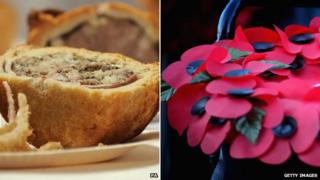 A "pie fit for heroes" is being sought by organisers of the British Pie Awards.
The annual competition, held in Melton Mowbray, Leicestershire, has added the category to commemorate 100 years since the start of World War One.
Bakers could draw inspiration from poppies, food eaten in the trenches or local specialties in France for their pastry products, organisers said.
The competition is open to commercial producers of pies and pasties.
Matthew O'Callaghan, who started the competition, said it was an open category with competitors free to interpret the brief as they wish.
'Soggy bottoms'
But judges looking for a winner will evaluate the pie's appearance and if it cries out "eat me", he said.
"Being fit for a hero then its got to be some sort of commemoration of the fact that it's going to be eaten by a hero," he added.
"Also, once you slice into the pie it's got to be well baked, with a firm bottom. No soggy bottoms around here.
"And there has to be a nice balance of ingredients and well filled - not a smear of filling."
Dr O'Callaghan said he hoped the winning pie would somehow be made available to British armed forces personnel around the world, including in Afghanistan.
The pie fit for a hero is the only one of the 19 categories where the crusty snack does not have to be available in the shops.
Organisers also hope the caterers for the forces will compete.
The competition will this year be held on 30 April in St Mary's Church, Melton Mowbray.