National Space Centre site chosen for ashes scattering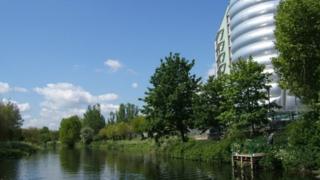 A stretch of river behind Leicester's National Space Centre has been allocated for families to scatter their loved ones' ashes.
It follows requests by several faith groups, which traditionally scatter the ashes of cremated bodies in flowing water.
The River Soar site was chosen by the city council and Environment Agency and is free to use.
It will be trialled for the next 12 months to determine its impact.
Councillor Piara Singh Clair said: "Faith group leaders have been asking us for some time for a suitable site on the River Soar in Leicester for scattering ashes.
"It meets many of the requirements in terms of being a discreet, quiet spot suitable for such a ceremony, but is also easily accessible and safe for people to use."
Previously, local people travelled to Barrow Upon Soar, which is approved as an official site and has been anointed with waters from the River Ganges.
The new site, owned by the city council, already has a platform in place and will serve Hindu, Sikh and Jain communities.