Twycross Zoo baby orangutan found dead in enclosure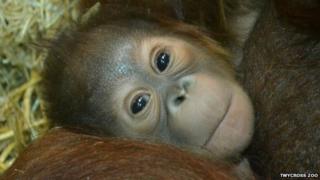 A two-month-old orangutan has been found dead in its enclosure at Twycross Zoo.
The Leicestershire zoo's spokeswoman said it was not known how the ape, born in November, died and a post-mortem examination would be carried out.
He added that the infant's mother Kibriah would be closely monitored.
Dr Charlotte Macdonald, head of life sciences at the park, said it was a sad day for the future of the species, which is endangered in the wild.
She said that "despite the tragic outcome, we are incredibly proud of Kibriah".
'Attentive and caring'
"The keepers will continue to ensure she receives the best possible comfort and care through this difficult time," she said.
"The loss of this baby orang-utan marks not only a very sad day for Twycross Zoo, but, as an endangered species, every baby is vital for the future survival of orang-utans, which are severely threatened in the wild."
The zoo spokeswoman said Kibriah had been a "very attentive and caring mother".
The International Union for Conservation of Nature has said deforestation of the orang-utans' natural habitat is the cause for dwindling numbers.
The baby, who was born on 28 November and had not yet been named, marked the third great ape birth at the zoo in 2013, following the arrivals of a gorilla and a bonobo.