Pillings Lock marina could close because of owner's debts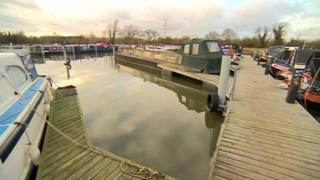 Owners of narrowboats moored in a marina could be forced to leave after the company in charge racked up £185,000 of debt.
The Canal and River Trust took the owners of Pillings Lock, Barrow upon Soar, Leicestershire, to the High Court over unpaid rent.
The trust said the marina's connection with the waterway could now be severed.
But Paul Lillie, managing director of Quorn Marina Properties, claimed the trust had refused to "compromise".
The trust said it had offered Mr Lillie alternative options such as temporarily reducing the marina's capacity.
Access to the marina will remain open for at least the next three months, the trust said.
Susan Turlington, who lives at the lock, said: "If closure goes ahead then we would seriously consider whether we would be able to stay here, not that we want to move.
"We like it here but if there's no access to the canal you can't take your boat out, you can't go anywhere."
'Smooth the waters'
Mr Lillie said he had been unable to pay fees of £38,000 a year, based on 100% occupancy, since taking out a lease in 2009 because of the recession.
He said: "It hit us very soon after we had signed the agreement and we've never been anywhere near 100% full and they've still wanted the full fees."
He added: "We've tried to say, 'be kind to us because we are a new business and we've not got enough money to pay'.
"We've always sent a smaller amount just to smooth the waters over and they've just chosen not to compromise at all."
However, Simon Salem, from the trust - a charity which looks after Britain's waterway network - said: "We are really sorry to be taking this action - it really is a last resort but we've been talking to Mr Lillie for well over a year now."
He added: "We've got 50 other marinas across the country - all making their contribution to the charitable work we do maintaining the waterways."
"Mr Lillie seems to be the only one who is not able to pay his contribution to that work."