Deceased Channel swimmer Susan Taylor 'was well prepared'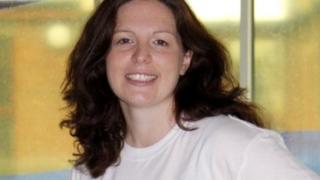 A fundraiser died trying to swim the English Channel despite being well prepared, an inquest heard.
Susan Taylor, 34, from Barwell, Leicestershire, collapsed close to the French coast and died on 14 July while raising money for two charities.
The coroner praised her selflessness and ruled that prolonged open sea swimming had caused her death.
He ruled Ms Taylor, who suffered an acute cardio-respiratory collapse, died of misadventure.
Mrs Taylor appeared to lose consciousness before she was taken ill a mile off the French coast.
She was pulled from the water by a crew member on her support boat, but was pronounced dead after being airlifted to a hospital in Boulogne.
The inquest heard that French lifeguards arrived at the scene within nine minutes.
'Desire to help'
The swimmer, who gave up her job as an accountant to dedicate her time to the challenge, was raising money for Diabetes UK and Rainbows Hospice in Loughborough.
Paying tribute to the experienced swimmer Coroner Trevor Kirkman said: "I understand that Susan was undertaking this swim not simply for personal glory, if I can put it that way, but because of her love for other people, because of her desire to help other people.
"I am told she was a kind and caring person. She was very involved in work for charities and she has probably achieved far more in her life than many of us will ever hope to achieve.
"It's tragic that her attempt, which was so very nearly successful, should end in this awful way."
In a statement issued after the hearing, David Wright, Mrs Taylor's brother, said: "We can now have closure on what happened to Susan.
"Susan was a wonderful person and was dedicated to helping those less fortunate that herself.
"We are very proud of all that Susan achieved during her short life, and are very pleased that many people have continued to support Rainbows Hospice for Children and Young People and Diabetes UK in Susan's memory."
Since her death thousands of people have donated more than £100,000 to Rainbows Hospice.