Formula E racing series: Donington Park chosen as world base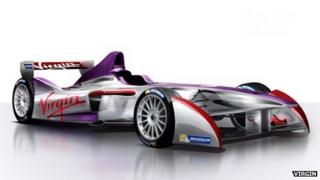 The Donington Park racing circuit has been named as the base for the Formula E electric racing car championship.
A £5.7m headquarters is being built at the Leicestershire track with 10 teams expected to be based there.
One of the teams, Venturi Grand Prix Formula E, is co-owned by Hollywood actor Leonardo DiCaprio.
The Formula E base will include offices, workshops and operational facilities employing about 150 people, a Donington Park spokesman said.
Electric showcase
The first Formula E race will take place in Beijing in September with other races planned for London, Miami and Rio de Janeiro.
The races, which will all be held on street circuits, are intended to showcase electric car technology and speed up development and innovation among manufacturers, a Formula E spokesman said.
Alejandro Agag, of Formula E, said: "We are also just a stone's throw from East Midlands Airport and the hub of our logistics partner DHL, meaning will we make substantial cost and emission savings.
"It's also great for such an innovative and global racing series to be based at a historic race track like Donington Park."
The first teams are expected to move into the new facilities in May.
Formula E is the highest class of competition for one-make, single-seat, electrically-powered racing cars.
The series will have 10 teams, 20 drivers, and 40 cars, with each team having two drivers and four cars.
The cars are designed and built by Spark Racing Technology and Renault.