Fresh plans for Leicester Riders new arena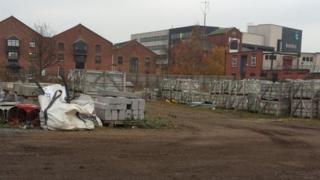 Four sites are being considered to build a new £2.5m sports arena in Leicester.
Proposals for a new 2,000-seat venue which would be a permanent home for the city's basketball team have been in discussions for several years.
A former gas works site in Charter Street has now been outlined by the city council as the favoured spot.
Leicester Riders' managing director, Russell Levenston said the new arena would "guarantee" the team's future.
The team currently shares facilities with De Montfort University, but that agreement will end this year.
'Guarantee future'
Mr Levenston said the team had sold out every game this season and turned people away due to a lack of space.
"We have been trying to find a new home for many years," he added.
"A new site would really guarantee our future, because right now there's no guarantee that we have a future.
"We know there aren't many sites in the city centre where we can hold our games and the biggest thing for us now is timing.
"Wherever this happens, it needs to happen fast."
People living and working near the proposed site said an arena would be a good use of the land but some expressed concerns about traffic.
Last year, plans for an arena to be built at Grace Road cricket ground went on public display but fell through after a bid for Sport England funding was unsuccessful.
In the latest report from Leicester City Council, councillor Abdul Osman said the wasteland near Abbey Park was the best option as it was "well positioned" near the city centre and had adequate space for parking.
The other three possible sites are at Grace Road, the old Granby Halls in Welford Road and the former John Ellis College campus.
A decision will be made by councillors on Tuesday.