St Luke's Hospital: NHS funding approved for redevelopment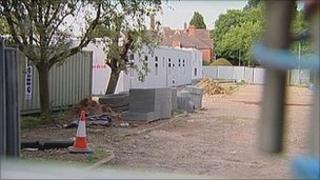 A major project to redevelop a community hospital in Leicestershire that has been discussed for decades has been given funding by NHS England.
A total of £6.8m has been earmarked for St Luke's Hospital in Market Harborough after years of false starts.
The most recent plans were submitted in 2011, but the redevelopment was first discussed 20 years ago, Harborough district councillor Phil King said.
Contractors still need to be arranged for the project, he added.
The hospital has 34 beds in three wards providing stroke rehabilitation and palliative care.
Mr King said it was difficult to estimate when construction would start, but it was not likely until "much later this year".
'Not viable'
He said: "It [the planning for redevelopment] has been going on for over 20 years, in various incarnations."
David Sharp of NHS England Leicestershire & Lincolnshire said: "There have been a number of false starts in the past, and there is still some way to go before a date for the start of construction can be confirmed."
Mr King said: "We even had a fully costed £30m scheme [in 2007] but that was pulled because the NHS decided it was not viable."
The community hospital offers a range of services which take pressure off hospitals in Leicester such as the Glenfield and Leicester Royal Infirmary, he said.
"It is going to be much later this year before the final approval will be given - and then we can get excited," Mr King added.