Leicester's Belgrave flyover to be demolished next month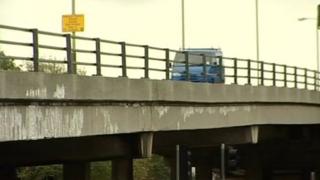 Demolition work on a Leicester landmark is due to start next month.
The Belgrave Road flyover will close on 1 February and work to pull it down is due to start on 15 February.
Residents are being consulted on whether they want to see the structure demolished quickly or over a longer time period with fewer road closures.
The project is being carried out by the city council and Sainsburys, which is closing its Belgrave Road store to redevelop the site.
It could take between two to three months to carry out the work.
The city council is also demolishing two 1970s office buildings at its New Walk Centre site, by 2015.
Hotel planned
Council staff are due to move out of the offices in June to other offices in the city.
The authority said it was working with developers and wants to see office space, a 150-bed hotel and residential accommodation on the site.
City mayor Peter Soulsby said: "By the time it's flattened, we will have firm proposals in place to redevelop on this site some offices, shopping, residential perhaps and leisure.
"What we want to do is bring jobs and activity back to this part of the city."
In 2010, the current buildings, which house about 1,200 staff, were found to need major structural repairs.
The new city hall, at Attenborough House in Charles Street, is due to be open by Easter 2014 once alteration and repair work has been carried out.