Richard III Visitor Centre to get life-sized window of King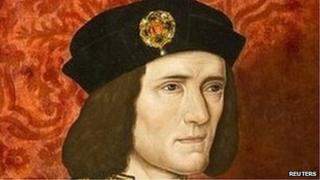 A life-sized stained glass window depicting Richard III is to feature at the new visitor centre under construction in Leicester.
Brad Cooke, 34, is to design and build the window showing the King, his wife and son.
Mr Cooke said he plans to have Richard III in full armour and regalia with his crown in his hand.
The exhibition centre will focus on the King's life, his brutal death and his rediscovery over 500 years later.
'Thought provoking'
Mr Cooke, who runs a stained, glass and glazing company in Knighton, said he was currently designing the 2.8m high and 2.3m wide window.
"I'm not 100% sure on the background colours yet, but I'm hoping to put the King in silver and gold armour," he said.
"I am planning to but Anne in the colours she was married in and Edward would be draped in the national flag of that time.
"Richard III will be slightly separated from his wife and son to make the piece thought provoking."
Mr Cooke has carried out restoration work on broken stained windows at Leicester Cathedral.
"I was over the moon and privileged when I was approached to do the work at the visitor centre," he said.
He added: "There are plans to have three lights behind the glass and each one would go off one by one in order of death to relate to the story.
"So the order would be Edward, Anne and then finally Richard III."
Mr Cooke said the window would take between six to eight weeks to complete and he hoped to have it completed some time in May.
Sarah Levitt, head of arts and museums at Leicester City Council, said: "It's wonderful that we've got this great opportunity to showcase local talent in the creation of such a beautiful piece of original artwork.
"The finished piece will create a striking backdrop to what should be an really exciting new exhibition, and we look forward to unveiling it to visitors."
The king, who reigned from 1483, was killed in the final battle of the Wars of the Roses at Bosworth field in Leicestershire in 1485.
Richard III's bones were discovered under a Leicester council car park in 2012 and were confirmed to be the King last year.
A judicial review has been scheduled in March to decide where he should be reburied.
The Richard III Visitor Centre is due to open in June.