Leicestershire road closes again after another water pipe bursts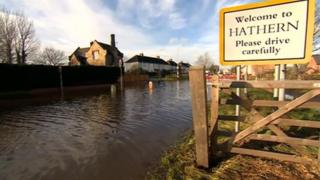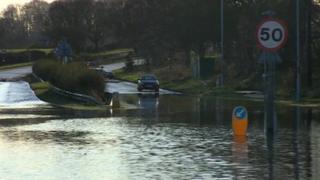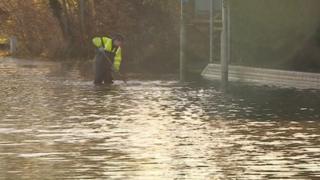 A major road has closed after another large water pipe burst during work to restore a Leicestershire town's water supply.
The 3ft-long (0.9m) pipe ruptured on Wednesday evening and flooded the A6 between Hathern and Loughborough.
Severn Trent Water said the amount of water that escaped was "vast" and has apologised for the disruption caused.
A large pipe that burst on Boxing Day left thousands without water and led to the road's closure for 11 days.
Water discolouration
Sarah-Jayne O'Kane, spokesperson for the company, said: "The amount of water escaping is vast and the area flooded is the size of a football pitch.
"We're hoping that once the water has dispersed, we might be able to open one lane either side of the road to allow traffic to continue to flow."
Customers discovered brown water in their supplies on Wednesday which led to the work being carried out in the evening.
The company has warned that more discolouration is possible as water is moved around the system.
On New Year's Eve, Severn Trent engineers replaced a section of 100-year-old pipe which burst beneath the A6 in Kegworth, near to the M1, on Boxing Day.
The road re-opened on 6 January but, following work on Wednesday to get Loughborough's water supply back to normal, a second pipe burst.