Leicester's Grey Friars: Inquiry into traffic-free plans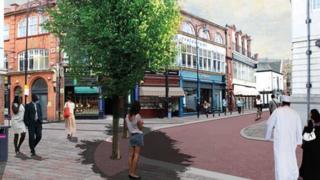 A public inquiry has been held into a council's plans to pedestrianise more areas of a city centre.
Leicester City Council has outlined plans to make Grey Friars, St Martin's and Hotel Street traffic-free to revive the old town.
Business owners say they fear the move will kill trade in the area and push customers away.
The local authority said the proposed revamp was "to improve visitor experience".
The historic part of the city centre is close to where the body of Richard III was discovered in 2012.
The plan is part of city mayor Peter Soulsby's "Connecting Leicester" vision, which has seen other parts of the city centre become pedestrianised.
'Right for city'
Restaurant owner David Hartshorn said traders were worried about access for deliveries and losing parking.
"We don't want to see complete access taken away from us because that is the lifeblood of this area," he added.
Barry Pritchard, the council's manager for transport strategy, said their research showed shoppers were attracted to traffic-free environments.
He added: "We are not about putting people out of business, we want to support them.
"But we believe this plan is the right thing for the area and the city."
A government inspector listened to evidence from the council and traders at the inquiry.
He will then either make a recommendation to the authority to pursue or abandon the plans before a decision is determined by the Secretary of State.