Sameena Zaman murder: Man charged over Belgrave death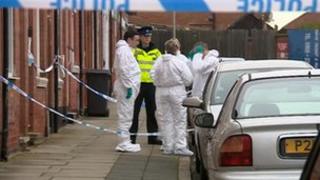 A man has been charged with the murder of a woman found dead in Leicester on Wednesday morning.
Police believe the woman, Sameena Zaman, came to the UK from Pakistan in May 2010 and was known as Sameena Kauser before her marriage.
The 34-year-old's body was found at a house in Down Road, Belgrave, after a member of the public alerted police.
A 44-year-old man was charged on Sunday and is due to appear at Leicester Magistrates' Court.
A post-mortem examination has been carried out on the woman but police said her cause of death was "not yet clear".