Great Central Railway bridge preparation work begins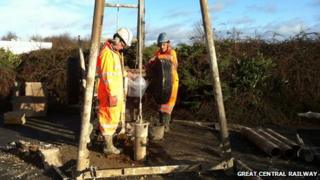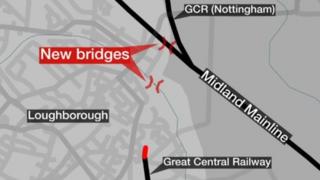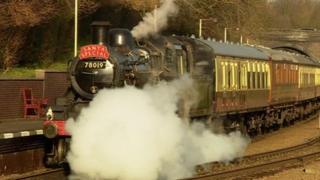 Work to build a £1m rail link between two heritage railway lines used as film sets has begun.
Boreholes have been drilled in preparation for a bridge over the Midland Mainline at Loughborough.
It will link the Great Central Railway North and South, creating 18 miles of heritage railway across Leicestershire and Nottinghamshire.
The organisation said it was "wonderful" to start work, giving renewed confidence in the project.
It has raised about £300,000 of the £1m needed for the bridge, which is being built by Network Rail.
The boreholes were drilled to check the ground conditions to help complete the design for the bridge, ready for a planning application to be submitted in the coming months.
Alan Kemp, of the Great Central Railway Nottingham, said: "After years of waiting it is wonderful to see physical works begin.
"The boreholes are a vital part of the design process and give us all confidence the project is moving ahead.
"It will still be some time before a bridge appears, but it is coming."
The railway recently submitted a lottery bid to build a museum in Leicester which would be a "significant annex" to the National Railway Museum in York.
It attracts about 120,000 visitors annually and has featured in films including Buster, Shadowlands, The Hours and Cemetery Junction.
It was also used for the Top Gear episode involving caravans being attached to a specially modified car and towed down the line.