Mallory Park in Leicestershire to get new sports for opening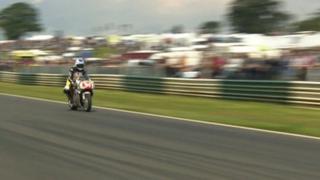 Equestrian, triathlon and mountain biking are amongst the new sports that could come to a struggling race track in Leicestershire when it reopens.
The new operators of Mallory Park, near Hinckley, said their aim was to attract more visitors to the renowned circuit.
Real Motorsport said it would still hold motor racing events at the track.
The previous owners went into administration last November after a lengthy legal battle with neighbours over noise caused by motor sports.
A spokesperson for Hinckley and Bosworth Borough Council said: "We are still having discussions with the new operators about noise restrictions for its motor racing days.
"We are broadly supportive of Real Motorsport's plans for non-noisy events to make Mallory Park commercially viable."
'Good career'
Part-owner and former racer Stuart Hicken, who started racing at Mallory Park in 1965, said they "would have to tidy some areas up" to accommodate the new sports.
He suggested triathlon events could be held using the venue's lake and a field could be used for equestrian.
"Mallory has had a really good career and we want to bring that back, so our aim is to make it busy again," he added.
Mr Hicken added that they are also planning told hold marathons and cycling events.
The borough council issued a notice in 1985 which dictated the number of race days and noise restrictions.
The number of noise complaints about the track rose from eight 15 years ago to 153 in 2012.
Residents in nearby Kirkby Mallory said the noise became "intolerable" and in 2012 legal action was brought against the former owners.
Mallory Park Motor sport Limited was fined £2,500, plus £23,000 court costs in August, which, it said, forced it into administration.