Kegworth air disaster: Flowers laid on 25th anniversary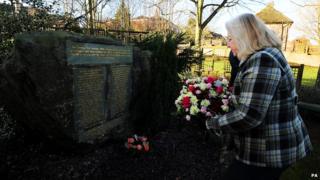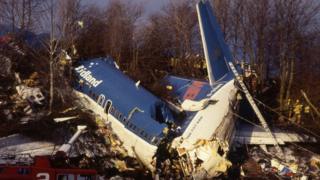 Flowers have been laid at a memorial site and prayers said to commemorate the 25th anniversary of the Kegworth air disaster.
A Belfast-bound British Midland flight crashed on the M1 in Leicestershire on 8 January 1989, killing 47 people and injuring 74.
Remarkably nobody on the motorway was hurt.
Flowers were laid by Lesley Pendleton who has been parish council clerk since before the accident.
The Boeing 737 developed a problem in its left engine shortly after it took off from Heathrow but the pilots mistakenly believed the fault was in the right engine.
They shut down the wrong engine leading to the crash just yards from the runway of East Midlands Airport where it was attempting an emergency landing.
A memorial was erected in the village cemetery by the parish council and every year since that night, Ms Pendleton has laid flowers.
On the night of the crash, she was driving her daughter Susan, then 12, home to Kegworth when she saw a plume of smoke.
Earlier she laid flowers before a short service was held at St Andrew's Church in the village.
Ms Pendleton, who organised a disaster fund that raised thousands of pounds to help those affected by the disaster, said: "The villagers were wonderful. Everyone rallied round to help."
You can hear about the crash from BBC Radio Leicester.