Council chief David Parsons expenses investigation dropped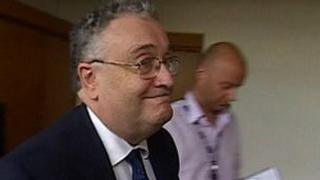 Police have said no further action will be taken against the former leader of Leicestershire County Council after an investigation into travel expenses.
David Parsons was accused by the authority of not promptly repaying money he owed for trips to Europe.
The matter was referred to police after Mr Parsons was censured by a county council Standards Committee in 2012.
Mr Parsons said he had done nothing wrong and had cooperated fully with the police investigation.
He had earlier apologised over the matter and said he took full responsibility.
His solicitor said that Mr Parsons was a busy man who took little attention as to the detail of his own financial matters.
An independent report found Mr Parsons had breached the council's code of conduct four times by failing to promptly repay money for trips to Brussels, despite repeated requests.
A body called East Midlands Councils (EMC) had initially paid for official trips to the continent, but the European Union then paid Mr Parsons directly.
He has since paid back thousands of pounds in expenses highlighted in the report.