A6 in Leicestershire re-opens after Boxing Day burst water main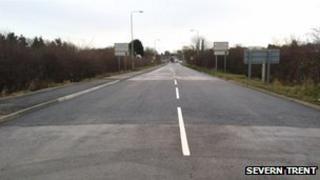 A major road in Leicestershire has been re-opened after work to repair a burst water pipe.
Thousands of people were left without water on Boxing Day after the 100-year-old pipe burst on the A6 in Kegworth.
Temporary traffic lights will still be in operation on the busy commuter route, near the M1.
Severn Trent said that the leak caused "a lot of damage" to the road, which was expected to have been closed for more than a week.
Water supplies were restored the same day the pipe burst, Severn Trent said.
Area manager Colin Church said: "As the pipe is so big, a huge amount of water escaped when it burst and this did a lot of damage, undermining the stability of the road.
"So not only did we need to fix the pipe, we also needed to fix the road and make it safe again.
"We know that this is a very busy road and that keeping it closed for so long was very inconvenient for a lot of people, but we had to make sure it was repaired properly and that it's safe for road users."