Leicestershire County Council plans to axe up to 700 jobs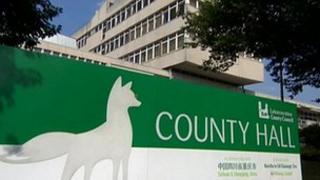 Up to 700 jobs could be axed as part of Leicestershire County Council's plans to save £110m, one third of its budget, by 2018, it has been announced.
The authority also proposed to increase council tax by 1.5% - it has been frozen since 2011.
However, the deputy leader said that there were plans to "increase certain services such as adult social care".
The Conservative-led council said changes to local government funding meant it had to find a total of £110m.
The authority said it has already made about 600 redundancies over the previous three years.
More community-led services, reduced grants to voluntary groups and changes to highways maintenance, museums and libraries were also among the savings proposals.
It said its plans to cut grants and make changes to services including street lighting, grass-cutting, museums and libraries were based on a public consultation process which took place in the summer and involved responses from about 7,200.
Byron Rhodes, the county council's deputy leader, admitted "we can't spare all the services that people wanted to see protected".
"We simply cannot afford to run services the same way as we have in the past. It's inevitable that the public will notice major changes," he said.
"We have to concentrate on caring for the most vulnerable people and that means saving money from other services, which have to take a lower priority."
The public have again been asked to comment on the authority's new budget proposals. The final decision will be made in February.
On Monday, Chancellor George Osborne warned of a further £25bn spending cuts nationally, which he said would be needed after the next election in 2015.
But the impact of this announcement to local councils is not yet clear.