Friars Mill factory gets £4m for restoration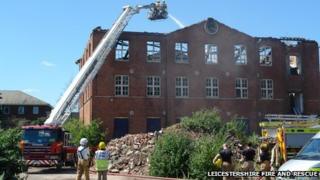 A Grade II listed building in Leicester damaged by a fire in 2012 has been awarded £4m in European funding to allow it to be restored.
The Friars Mill building in Bath Lane, known locally as the Donisthorpe factory, dates back to 1739.
The site, thought to be the city's first factory, has been derelict since 2005.
There are now plans to transform it into a business hub as part of a wider scheme to regenerate the area.
City mayor Sir Peter Soulsby said the money would be used on the "very important restoration" of the building.
"It is an absolutely beautiful, prominent building and important to Leicester's history," he said.
"But sadly in recent years it has fallen into disrepair and we are delighted we have got the funding to bring it back into use."
Once restored, he said the building would be used as home for new and developing businesses in the city.
It is expected to be ready by 2015.