Major Leicestershire road closed for leak repairs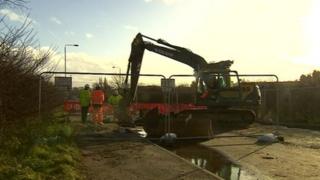 A main road in Leicestershire could be closed for more than a week after a large water pipe burst.
Severn Trent Water said the leak had damaged part of the A6 in Kegworth, near to the M1 junction and close to the Derbyshire-Nottinghamshire border.
The pipe, which is 3ft (0.9m) in diameter, burst on Thursday affecting household water supplies.
The water company said a huge amount of water escaped and undermined the stability of the road.
Alan Payne, general manager for Severn Trent Water, said customer supplies had returned to normal and the priority was now to repair the pipe and the road.
He said: "We know that this is a very busy road and that keeping it closed is going to be very inconvenient for a lot of people, but we have to make sure it is safe for both our teams to fix the pipe and also for road users.
"We will be doing everything we can to repair both the road and the pipe as quickly as possible."
Diversions have been put in place while the work is carried out.