Charity shop vase raises £900 for Emmaus Leicestershire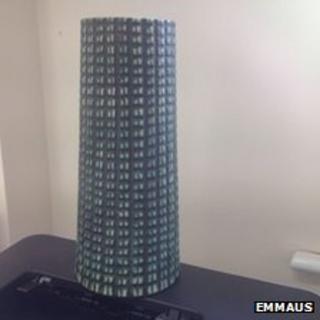 A rare vase found in a charity shop's bric-a-brac section has sold for more than £900 in an online auction.
The 12in (30cm) tall Poole Studio vase by Tony Morris was found in the Emmaus Leicestershire and Rutland shop in Hinckley.
The pale green vase was spotted by one of the shop's volunteers who saw the Poole Studio mark on its base.
Emmaus' business manager Matthew Taylor said the money raised would go towards more beds for the homeless.
Mr Taylor said the vase had been left in a box at the back doors of the Hinckley shop and they did not know who had donated it.
"It doesn't look like anything special but it's obviously caught someone's eye and it's a rare vase," said Mr Taylor.
He added that after some research, he found the vase was made between 1962 and 1966.
Poole Pottery was founded in 1873 and produced tiles used on London Underground stations in the 1930s.
The company closed in December 2006 after 130 years in business but a holding company bought the firm and secured its future in 2007.