Leicester Royal Infirmary: Emergency care 'needs overhaul'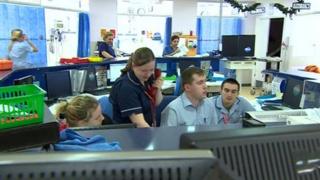 A Leicester health boss has admitted the city's care system needs a major overhaul following poor performance at its main A&E department.
In the first week of December, 73% of patients at Leicester Royal Infirmary's A&E were seen within four hours.
That made it one of the worst performing hospitals in the country. The target and national average is 95%.
Azhar Farooqi of the city's clinical commissioning group said plans were in place, but more needed to be done.
The hospital said it planned to recruit 200 new nurses by March 20014 and was looking overseas to fill the gap.
'Work to do'
A total of 2,431 people attended the hospital's emergency department in the first week of December, with 656 patients, or 73%, waiting more than the recommended four hours to be treated.
That compares with 87% at the Queen's Medical Centre in Nottingham and 95% at the George Eliot Hospital in Nuneaton.
But a hospital spokesman said the figures could vary on a daily basis. On Thursday 95.6% of 525 patients were seen at A&E within the four-hour target.
University Hospitals of Leicester NHS Trust spokesman Richard Mitchell said: "Leicester has a long-standing problem here - we have a department built to see 100,000 patients that is currently seeing 160,000 patients.
"We have too few beds to accommodate all of our patients in a timely manner - the LRI site is 74 beds short of the number we require."
It is putting plans in place to address the problem, including a new A&E department by 2016, he said.
Professor Farooqi said: "I think the whole system needs a thorough overhaul. That's what we are in the process of doing at the moment.
"The urgent care centre was part of that process. We have increased the efficiency of the department, we are getting many more doctors coming in.
"There are plans in place but clearly we have got a lot of work to do."
Dr Ben Teasdale, lead consultant in the A&E, said: "One of the biggest factors about our performance is the size of the department.
"Almost every area is half the size it's going to be in the new department.
"We simply do not have enough space on a day-by-day basis to treat patients effectively."