Leicester hospitals trust needs loan for £40m deficit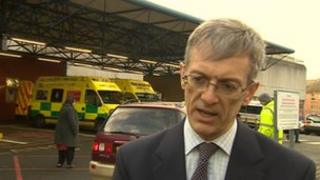 The trust in charge of Leicester's hospitals has said it may have to apply for a loan in order to remain solvent.
University Hospitals of Leicester NHS Trust said its deficit will rise to about £40m by the end of the year.
It said pressures on accident and emergency departments and failure to secure funding for major changes were to blame.
The Leicester West MP Liz Kendall described the situation as "a mess".
Andrew Seddon, the trust's director of finance, said funding as it stands does not cover costs and the trust was looking to borrow money from the Department for Health.
'Juggling money'
"We as a trust could have clearly done better," Mr Seddon said.
"We're working closely with other partners in the health economies, the clinical commissioning groups, to work out better ways of meeting those challenges of access, patient quality and finances."
Liz Kendall, the local Labour MP, said: "I think this is a mess.
"Our hospitals and our local GPs, who are now responsible for commissioning services, should be working together."
Health campaigner Zuffar Haq, who is the chair of a Leicester patient group, said people should not be worried by the announcement.
"This is a financial issue, and it will be dealt with by the NHS.
"It's about juggling around the money, they won't see any impact on the wards.
"The hospital is still recruiting doctors and nurses and there should not be any change inside the hospital at all."