Twycross Zoo celebrates third great ape birth in 2013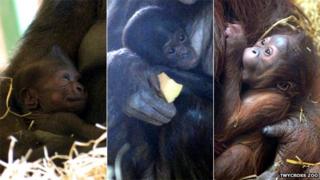 Twycross Zoo is celebrating the birth of its third species of great ape in the space of a year.
The zoo, in Leicestershire, announced the birth of an orang-utan on Tuesday, following the arrivals of a bonobo in February and gorilla in January.
Experts say the births are important as the apes are so endangered in the wild.
The orang-utan, born to mother Kibriah, 36, and father Batu, 24, will play a vital role in the European Breeding Programme, experts at Twycross said.
'Confident and relaxed'
Charlotte Macdonald, head of life sciences, said: "Orang-utans are likely to be extinct in the wild within the next 20 years, so successful breeding is imperative if this ape is to continue to exist on this planet in the future."
The International Union for Conservation of Nature has said deforestation of their natural habitat is the cause for dwindling numbers.
Dr Macdonald said: "Although Kibriah isn't a first-time mum, this is her first baby in 12 years so we're all very pleased with how well she's doing.
"She's very confident and relaxed with the infant, and enjoying plenty of rest.
"At the moment Batu hasn't met the new arrival but it won't be long before they're introduced."
The zoo said it had checked a worldwide database known as the Zoological Information Management System (ZIMS) to see how unusual the birth of three apes in a year was.
A zoo spokesperson said: "We are the only zoo currently listed as having successful births of three different great ape species in the past 12 months."
Lope, a gorilla was born on 3 January, and Mokonzi, a bonobo, was born on 19 February.