Wsam Noorwali battery death: Coroner criticises hospital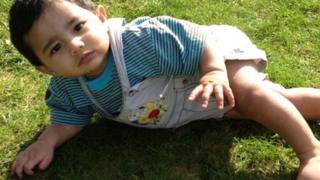 A coroner has criticised the Leicester Royal Infirmary over its care of a 14-month-old boy who died after accidentally swallowing a battery.
Wsam Noorwali was admitted to the hospital after he started vomiting blood at his home in Hamilton on 18 August 2012 but died the next day.
Recording a narrative verdict, coroner Catherine Mason said there were "missed opportunities" to treat Wsam.
The hospital said new procedures were in place after this "tragic case".
The inquest at Leicester Coroner's Court heard the battery was not found until the post-mortem examination, which revealed it had caused a fatal haemorrhage.
It was still not known where the battery, which was the size of a two pence coin, had come from.
Wsam was moved to the children's intensive care unit in the early hours of 19 August 2012 but his heart stopped beating and he was unable to be revived.
He was pronounced dead shortly after 07:00.
'Tragic death'
Mrs Mason told the inquest that the boy was not resuscitated "as quickly as he could and should have been".
She said staff at the hospital "missed" opportunities, including giving Wsam an X-ray and an endoscopy - a procedure involving an internal camera which could have spotted the battery.
As a result, she said the boy's true condition was not known for hours.
"Nevertheless, medical evidence means that I cannot say whether, on a balance of probabilities, the outcome would have been different," she added.
"However, I can say on the balance of probabilities Wsam's chances of a better outcome would have been better."
Matthew Olner, the family's solicitor, said: "Wsam's parents are naturally devastated about the loss of their son.
"The family are considering their options, which may involve a civil claim."
Beverly Collett, associate medical director at Leicester's Hospitals said after this "tragic death" children under the age of two, who are vomiting blood, would be "X-rayed in addition to other routine investigations".
"This new standard operating procedure is now being used but following the coroner's comment, we will ensure that it is available via our intranet so that it is accessible to all clinical staff.
"This was a very unusual and tragic case and our condolences go to Wsam's parents for their loss," she said.