Bishop of Leicester: 'Richard III will be buried in Leicester'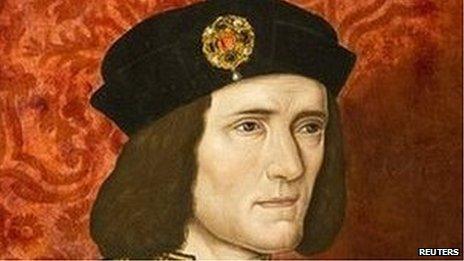 The Bishop of Leicester has said there is "no doubt in his mind" Richard III will be reburied in the city.
When bones were discovered under a car park in the city, the government granted an exhumation licence to the University of Leicester.
But the Plantagenet Alliance - distant relatives of Richard III - want him buried in York, and have won a judicial review into the decision.
The Right Reverend Tim Stevens said he should rest close to "where he fell".
The king, who reigned from 1483, was killed in the final battle of the Wars of the Roses at Bosworth field in Leicestershire in 1485.
The skeleton was found under the car park in 2012 and the Ministry of Justice granted a licence to the university to excavate the bones and decide where they should be reburied.
The university eventually chose Leicester Cathedral, where detailed plans for his tomb were later drawn up.
But the Plantagenet Alliance wants him reinterred in York Minster, claiming that was Richard's wish. The judicial review won by the alliance will decide whether the granting of the original licence was legally correct.
Bishop Stevens said: "I think that as the court concentrates on the central question, which is 'where do human remains that have been disinterred belong?', the answer is in the nearest consecrated ground, the place of discovery.
"I'm sure that's the decision that we will obtain, we just have to wait for it."
"This is the natural outcome of the story and I believe it will be the outcome," he added.
Related Internet Links
The BBC is not responsible for the content of external sites.