Hinckley fans vote to form new club for town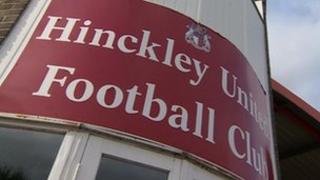 Football supporters have voted to start a new club for a Leicestershire town after the previous one folded earlier this year.
Hinckley United FC was wound up at the High Court in October with debts of more than £200,000.
On Monday, more than 150 people showed their support to form a new club for the town.
The campaign group said it would need a new ground, a new name and players before the start of next season.
Fans said they had sought funding to get started from Supporters Direct, an organisation to help community-owned clubs.
"It is a massive task to undertake and there's lots of work to be done, so it is a challenge," said Simon Blyth, a supporter of the former club for 16 years.
"If everyone works together we can only give it our best shot.
"Hopefully along the way more people will get involved and help us get a club back for Hinckley."
The Knitters had been playing in the seventh tier of English football after being relegated from the Conference North.