Mallory Park will reopen under new operators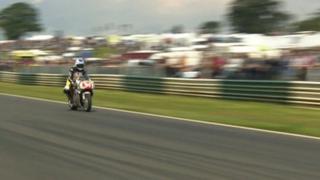 A renowned race track which went bust after a lengthy legal battle with neighbours over noise is set to reopen.
The previous operators of Mallory Park, in Leicestershire, went into administration last month following a large rise in complaints.
Real Motorsport has now stepped in and hopes racing will restart in spring.
Hinckley and Bosworth Borough Council said it was "guardedly optimistic" a compromise between residents and the track could be found.
The current noise limit was set in 1985 in an order which also dictated the number of race days.
But residents in nearby Kirkby Mallory said the noise became "intolerable" and in 2012 legal action was brought against Mallory Park Motorsport Limited (MPML).
It was fined £2,500, plus £23,000 court costs in August, which, it said, forced it into administration.
Council chief executive Steve Atkinson said new noise levels may now have to be set and a compromise reached between the village and the track operators.
"We still have to have discussions with the new operators about the noise levels and activity on the site," he said.
"We have had preliminary discussions but now they have been signed up we can do something more concrete."
The new firm has been established by Stuart Hicken and Eddie Roberts who both have experience in motorsport, both racing and business.
In a statement the pair thanked the land owners Titan and the council.
"We realise there is a lot of bridge building to be done with the local community, but Mallory Park has been here for a long time and we are hopeful that with understanding all round it will have a long and successful future," they added.