Jesse Jackson: Leicester park named in his honour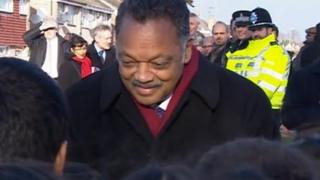 The Rev Jesse Jackson has opened a park named in his honour during a visit to Leicester.
Leicester East MP Keith Vaz invited the US civil rights activist in recognition of his "tireless campaigning" for race equality.
He said: "Jesse Jackson has spent his life fighting against injustice and for equality, values this city shares."
The revamped park, off Troon Way, also features a newly created Martin Luther King trail.
During the visit, Rev Jackson described Leicester as a "fine example" of how people from different communities could "come together and live in harmony".
He called it "a beacon to the rest of the world".
Rev Jackson, who received an honorary degree from De Montfort University in 2011, watched performances from local school choirs to mark the occasion.
He also planted a tree in memory of youth team football coach Antoin Akpom, who died after being stabbed in the street.