Loughborough Victorian bell foundry in £3m fundraising bid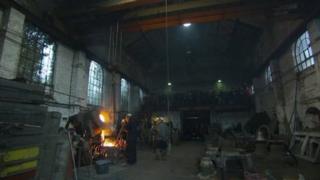 A foundry that has been making bells for more than 200 years has begun an attempt to raise £3m to save its Victorian building.
Taylor's Bell Foundry in Loughborough, Leicestershire, made the Great Paul bell in 1881 for St Paul's Cathedral.
The firm has begun a fundraising campaign with English Heritage in an bid to repair its crumbling building.
Spokesman Mike Semken said the foundry was "damp and leaks like a sieve".
"Working here is a challenge but we love it," Mr Semken said. "It's an amazing place - full of dark corners and fascinating stories."
'Time capsule'
Mr Semken said one of the main problems was the building's roof, which was leaking after decades of decay.
The leaks have been causing water damage in the template room, which stores the designs of every bell made by the company.
"This is the hub of the product - without these templates and shapes we cannot make these bells," he said.
Workers often spend their lunch break ringing the bells at the building.
"This is a focus for bell ringing and bell manufacturing in the country. It is almost unique and it must stay, it simply must," Mr Semken said.
Colin Howlett, who has worked at the foundry for 41 years, remembers his father working at the firm.
"With me being small I can just remember him coming home from the foundry and being black dirty because it's dirty work and the smell when they're casting - you could always smell when he was coming in."
Working museum
Colleague Bill Bowes said: "It really gets under your skin, there's no other job like it."
Taylor's went into administration four years ago but was saved by a management team led by Mr Semken.
The company has made bells for customers all over the world, including as far away as Australia and New Zealand.
There are plans for the building to become a working museum if it is rescued.
Apprentice Anthony Stone said: "It's a time capsule. It shows how England used to do things during the industrial revolution."
Ben Robinson, from English Heritage, said: "Buildings are about people. People created them, people occupy them and this is an ongoing manufacturing concern - it is doing what it was designed to do."
The foundry will be featured in BBC TV programme Restoring England's Heritage, which also features Cromford Mill, Derbyshire; Mapperley Chapel, Nottingham; Newstead Abbey, Nottinghamshire; All Saints Church, Beckingham, Lincolnshire; and the Church of St James the Greater in Ab Kettleby, Leicestershire.
It will be shown on BBC One at 19:30 GMT on Thursday 5 December.