Great Central Railway bids for £10m lottery cash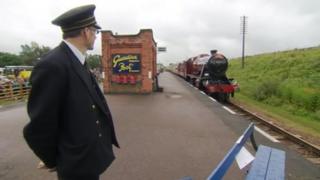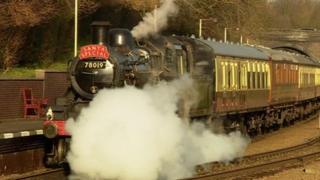 A team hoping to create a new railway museum in Leicester has submitted a bid for £10m to the Heritage Lottery Fund.
The museum would be built close to the Leicester North station of the Great Central Railway, which spans Leicestershire and Nottinghamshire.
Visitor numbers are expected to reach about 230,000, with a further £5m of funding required.
The museum is intended to be a "significant annex" to the National Railway Museum in York.
The Great Central Railway is the UK's only double track main line heritage railway, meaning two tracks run parallel in opposite directions.
'Enhanced reputation'
Managing director Bill Ford said, "The museum will help people reconnect with Leicester's railway story and our shared heritage.
"Together with our thriving steam line, we're confident tens of thousands of people will visit every year."
The railway already attracts about 120,000 visitors annually and has featured in films including Buster, Shadowlands, The Hours and Cemetery Junction.
It was also used for the Top Gear episode involving caravans being attached to a specially modified car and towed down the line.
Officials are also working with Leicester City Council on the project.
City Mayor Peter Soulsby said the museum would complement the nearby National Space Centre and Abbey Pumping Station.