Leicester City Council loses bid to evict widow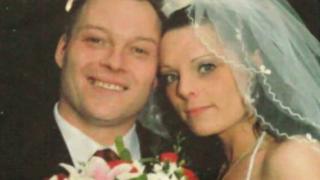 A widow has won a legal battle to stay in the home she shared with her husband, who took his own life there.
Court of Appeal judges dismissed Leicester City Council's bid to evict Clare Shearer and her young daughters from their house in Leicester.
The tenancy was in the name of Mrs Shearer's husband James, who took his own life in February 2011.
The council said tenancies on its properties can only be passed to relatives in limited circumstances.
Mrs Shearer, 32, said: "I was absolutely mortified. I was having to deal with the death of my husband and this letter came only two weeks after.
"I'm so overwhelmed that we've won it and these three years fighting has really been worth it.
"It's such a relief to know that all these memories we are going to get to keep."
The council said it might now review its housing allocations policy in light of the case.
No exception
Mr Shearer had inherited the tenancy of the couple's home from his mother and the council had described Mrs Shearer as a "tolerated" trespasser.
The widow pleaded to stay in a nine-page handwritten letter to the council, but housing officials said they had to "follow due process" and could not make an exception for the family.
The council asked a county court for a possession order, but the judge refused to evict the family. It then took the case to the Court of Appeal.
Dismissing the challenge, Lord Justice Jackson said the council had given Mrs Shearer "misinformation" and "misled her into believing" that there was no possibility of her being allowed to remain at the house in Humberstone.
Lord Justice Jackson, sitting with Lord Justice Floyd and Sir David Keene, said: "The facts of this case constitute exceptional circumstances which plainly merited consideration under the [housing] allocations policy.
"In commencing possession proceedings against Mrs Shearer without giving any or any proper consideration to the option of making a direct let... the council acted unlawfully."