Richard III Battle of Bosworth painting goes on show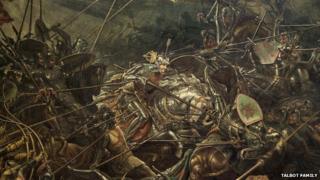 An oil painting of Richard III's last stand at the Battle of Bosworth has gone on show for the first time in "many years".
The artwork, by Hinckley artist William Bass, shows the dramatic moment the king loses his crown in the battle.
It was finished in 1839 and has been loaned to Leicester's New Walk Museum and Art Gallery until 2015.
Simon Lake, curator of fine art, said the painting conveyed "the horror and confusion of battle".
"This thrilling painting re-imagines for a 19th Century audience King Richard III fighting on horseback at Bosworth, with his crown falling in a terrifying press of bodies," he said.
"The artist conveys the horror and confusion of battle, but also the courage of a king who is fighting for his kingdom and very survival."
Richard III, who reigned from 1483, was killed in the battle at Bosworth field in Leicestershire in 1485.
Mr Lake said the painting had not been seen in public for "many years".
It has been in the collection of the Talbot family for several generations after a member of the family married into the Bass family.
The family also owns a number of Bass's artefacts including diaries, preparatory sketches and sketch books and the palette used when the painting was created.
The artist's works were once exhibited at the Royal Academy in London and a number are still on show in Hinckley Town Hall.