Leicester Cathedral Quarter work begins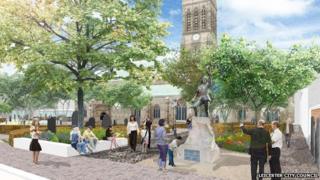 Work has started on a £2.5m project to transform Leicester's Cathedral Quarter.
The newly-developed area, combined with neighbouring sites, will create an outdoor event space with seating for up to 800 people.
A statue of King Richard III, currently in Castle Gardens, will also be moved to sit outside a new visitor centre opposite the cathedral.
The work is expected to take about six months to complete.
City mayor Sir Peter Soulsby said: "Cathedral Gardens is an exciting and important development and I am looking forward to seeing it take shape over the coming months.
"It will provide a really attractive and fitting setting for our city's wonderful cathedral and for the new King Richard III Visitor Centre, and help make this part of Leicester something the whole city can be proud of."
The first phase of work involves clearing the terraces in front of the cathedral.
This includes the removal of 120 decorative memorial headstones, which will be cleaned and repaired.
About half will be reinstated in the new gardens. The remainder will be placed in Welford Road Cemetery.