Leicester's Jubilee Square: Bid to stop green space project rejected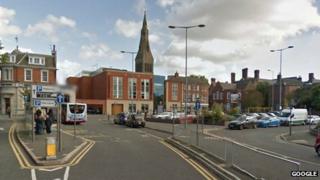 A man who started a legal challenge against a project to turn a Leicester car park into gardens and open space has had his bid turned down.
Attual Rai Chand requested a judicial review of the Jubilee Square project, which will include a pedestrian area and the city's original High Cross.
The environmental consultant said he was opposed to the design of the open space as it showed "no imagination".
His request was declared to be "totally without merit" by a High Court judge.
Mr Chand, who was unavailable for comment, previously said: "I think people are let down by this."
He said the consultation had "not been as thorough as I would have expected and it hasn't engaged me, or other people".
However, the city council said it had consulted with businesses and residents.
The authority said the design, which includes seating and lighting, would help to show off features of the buildings fronting the new square, including Wygston's House, the oldest complete timber-framed building in the city.
The remaining column of the city's original High Cross will be moved from Cheapside to the new square, a council spokesman added
The project has also faced some objections from businesses who said a loss of parking space would affect traffic and trade.
Work started on site at the end of August and is expected to take eight months to complete.