Loughborough terror accused 'fought nursery shooting urge'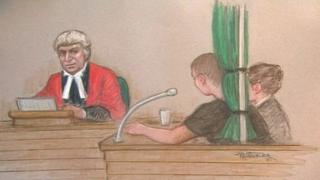 A teenager accused of preparing a terrorist attack on his former school told a friend he had an urge to shoot at a nursery, a court has heard.
The 17-year-old, from Loughborough, has denied planning to use bombs he possessed against a number of targets.
The boy had "fought" the urge to shoot at the nursery and instead he had physically attacked his mother, the jury at the Old Bailey heard.
He had earlier told the trial he made petrol bombs with friends for fun.
The defendant, who cannot be named for legal reasons, has already admitted possessing component parts for improvised explosive devices (IEDs), petrol bombs and pipe bombs.
But he denies a charge of possessing the items for the purpose, preparation and instigation of an act of terrorism.
'Strong urge to shoot'
Being cross-examined by prosecutor Max Hill QC, the youth admitted he would "sometimes" walk to college from his home carrying a knife and, on some occasions, a pistol.
The boy, who has Asperger's syndrome, said that shortly after midnight on 20 December, he wrote a message to his friend on Facebook about the nursery incident.
Mr Hill asked him: "Did you tell (your friend) that you were walking past the nursery when you felt a strong urge to shoot?"
The defendant, who was 16 at the time the alleged offences were discovered, replied: "I did, yes."
Asked who he had felt like shooting, he replied: "People around the nursery."
Pressed for whether he meant children or adults, or both, the teenager told the court: "I don't know. Because I wouldn't have done it."
Mr Hill told the court a later Facebook message to the same friend read: "I nearly gave in, but I fought it and I hit my mum."
'Scumbag revenge'
The teenager admitted sending the Facebook message and hitting his mother, adding: "She said some mean stuff."
He was angry because his mother had said he would "end up like that guy in America" who "shot those children", the jury was told.
The prosecutor also told the court of letters written by the teenager in which he said: "One day I will get the scumbags back."
Mr Hill read out part of one which said: "The only way to get some proper power is to hit back against the scum."
Asked about his letters, the teenager said: "That's how I was feeling."
The court heard earlier in the trial he wrote in a Che Guevara notebook covered with swastikas, of his plan for The New Columbine.
The boy also allegedly listed targets in Leicestershire, including a mosque, college, cinema and university.
The trial continues.