Terror notes helped Loughborough boy cope with bullying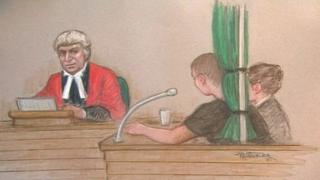 A teenager has told a court that he wrote about committing a school massacre because it helped him cope with bullying.
The 17-year-old, from Loughborough, denies preparing a terrorist attack against a number of targets.
The defendant told the Old Bailey he had been called a Nazi, a fascist and a racist, at school.
He was also asked whether he would have detonated explosives inside the school, he replied: "deep down, no".
The defendant, who cannot be named for legal reasons, has already admitted possessing component parts for improvised explosive devices (IEDs), petrol bombs and pipe bombs.
But he denies a charge of possessing the items for the purpose, preparation and instigation of an act of terrorism.
'Real operation' denied
The court heard earlier in the trial that he wrote in a Che Guevara notebook covered with swastikas, of his plan for The New Columbine.
Twelve pupils and a teacher were murdered at Columbine High School in the US state of Colorado in April 1999.
On Wednesday, the boy's defence barrister Ali Bajwa QC asked why he had written it.
The boy, who has been diagnosed with Asperger's syndrome, said: "Writing it down made me feel better... as if I'd got my own back on the people that bullied me."
The teenager was asked whether it was a real operation and replied "no".
The boy also told the court he could relate to murderers in a book he had bought because they had been bullied or mistreated.
However, when asked by Mr Bajwa whether he was capable of doing what they had done he replied: "No, never".
The trial continues.