Two new Leicester Gypsy and traveller sites approved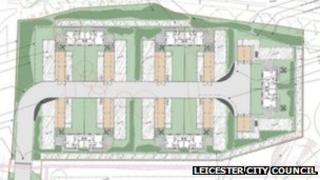 Two new official Gypsy and traveller sites in Leicester have been given the go-ahead.
Ten permanent pitches for caravans at Red Hill Way and six at Greengate Lane have been agreed by the city council's planning committee.
During a public consultation most of the 1,500 people who answered were against the plans.
Leicester's mayor Sir Peter Soulsby said he had listened to residents' complaints about unauthorised camps.
'Legal challenges'
Sir Peter had approved the two permanent sites in January. A third site at Beaumont Way was rejected as unsuitable. All three sites are in the north of the city.
He said: "We have had years and probably decades of problems with unauthorised encampments particularly on this side of the city.
"It's very difficult to find appropriate sites in a very highly developed city like Leicester."
Campaigners have said residents were not properly involved in the selection process.
Roy Rollings, who chairs the LE4 Action group that has been campaigning against the plans, said: "We have solicitors representing the action group and we will be seeking advice from them.
"There are a number of legal challenges available."
There were more than 115 illegal traveller pitches between January 2009 and September 2012.
Pauline Burton, Gypsy and travellers' liaison officer at Leicestershire County Council, said: "At any one time we've usually got about 15 caravans parked illegally around this area [Red Hill] and the county council have identified that there is a need to build more spaces for the caravans to park legally."