Loughborough terror attack accused, 17, 'messing about'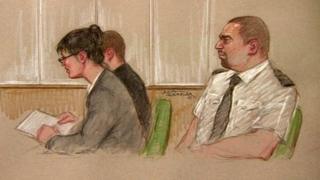 A boy accused of preparing a terrorist attack has told a court he was just "messing about" when he filmed himself testing explosives and poison gas.
The 17-year-old, from Loughborough, has denied planning to use bombs he possessed, against a number of targets.
The defendant also told the Old Bailey anti-Islamic material he recorded was "just for fun".
The teenager, who has Asperger's syndrome, also told the jury he had been bullied as a child.
The defendant, who cannot be named for legal reasons, has already admitted possessing component parts for improvised explosive devices (IEDs), petrol bombs and pipe bombs.
Alleged target list
But he denies a charge of possessing the items for the purpose, preparation and instigation of an act of terrorism.
He told the court he had become fascinated with World War II, as well as the weapons and memorabilia associated with it, after a disruptive childhood in which he was repeatedly bullied.
During evidence at the Old Bailey, the teenage defendant said anti-Islamic material he recorded on behalf of a group he helped found, called the URA (Urban Revolutionary Army), had not been serious and was "just for fun".
Earlier in the trial, a number of homemade videos shown to the jury were allegedly filmed by the boy and his two friends as they tested a type of Molotov cocktail.
The defendant said he had just been "messing about".
The court heard earlier in the trial he wrote in a Che Guevara notebook covered with swastikas, of his plan for The New Columbine.
The boy, who was 16 at the time, also allegedly listed targets in Leicestershire, including a mosque, college, cinema and university.
The trial continues.